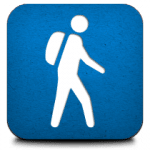 3 innsjøer rundtur
Start at the parking lot by the ski-lift, pass the children's lift and you will pass Savalen Horse Center after 600 meters. Then continue up by "Letengsetra". About 150 meters after you've passed "Letengsetra" take a right onto a path and follow this path until you arrive at "Hemstadtjønna" which you arrive at after 2.1km from start.
From here you follow a path to the left over a little height. From the top there is no path, but we walk on the moss down to "Midttjønna" and then you find a new path which follows "Midttjønna" for about 150 meters. After another 150 meters you arrive on the path between "Øykjeklett-tjønna" and "Midttjønna". On this path you take a left and after about 100 meters there is a new path to the right towards "Savalen Kletten" and "Fiskviksetra" to follow. 
From this path we get "Øykjeklett-tjønna" on the left and "Tronfjell" towering in the background. The path is in an open terrain the first 400 meters before we walk into the woods and after about 400 meters in the woods where we walk around a little ridge, we take the path to the left towards "Savalen Kletten". We do now only have 3.1 km left of the trip.
We do quickly get a lovely view, first to the east towards "Øykjeklett-tjønna" and behind that: "Midttjønna". To the south/ south-west we have a nice view over Savalen and all the mountains in the background. We do see "Rødalshøa", "Håmmårhøa", "Fjelenghøa" and "Bangardsvola" to the west. To the south you see the 1827-meter-high, pyramid-formed big "Sølnkletten" (Alvdalssøln) and to the right for this you can see the north-east tops in Rondane; "Høgronden", "Midtronden" and "Digerronden". To south-east you see "Trondfjell" with its 1666 meters. 
The terrain is varied and a little "trollish". After 2.2 km from "Kletten rundt" we are on the highest point of "Kletten" furthest south. Here from it is 1.3 km down, first follow the path down the alpine hills before we follow the road the last meters back to start. 
Distance M: 7.4 km | Low. height 735 m.a.s.l. | Max. height 962 m.a.s.l. | Increase 369 meters | Fall 351 meters
GPS-fil here