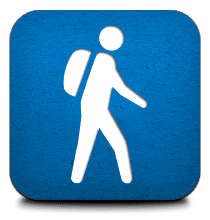 Håmmårhøa
Start at the parking lot by the ski-lift and follow "Savalen rundt" road for about 3 km before you take the road to "Mogardsdalen" and follow this for about 650 meters. From here you take a right and follow the path towards "Fjellenghøa" and "Håmmårhøa". From the road which lies on about 745 m.a.s.l you follow the path about 1.2 km up to the treeline on around 820 m.a.s.l. First there is pinewood, then you'll find mountain birch.
Now the terrain is opening, and you get a view of Savalen, Bangardsvola, Tronfjell and you can see Fjellenghøa and Håmmårhøa. The path continues up for about 1.9 km and you arrive at a big stone, you are now about 1045 m.a.s.l and are just under the crest to "Fjellenghøa". From here it is about 1.2 km to the top and we take a right for the steepest part upwards. About 400 meters from the big stone we reach the ridge where the path divides. To the left you have "Fjellenghøa" and to the right you have "Håmmårhøa". It is about 800 meters to the top. The next 2-300 meters are relatively flat and lies under the ridge. From the ridge and down to the left you can see "Stortjønna" and "Storgjottjønna" before you start the last 5-600 meters upwards with a height difference about 120 meters. The last part has no solid path.
From the top you have a nice view in all directions. Closest you have "Fjellengtrøa" and "Bangardsvola" and further behind to the south you see the 1827-meter-high, pyramid-formed big "Sølnkletten" (Alvdalssøln) and to the right for this you can see the north-east tops in Rondane; "Høgronden", "Midtronden" and "Digerronden". To the east you see "Trondfjell" with its 1666 meters and in west you see "Rødalshøa".
Distance M: 7.7 km | Low. height 708 m.a.s.l. | Max. height 1243 m.a.s.l. | Increase 549 meters | Fall 55 meters
GPS-file here