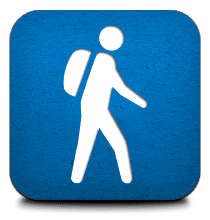 Kletten rundt
Start at the parking lot by the ski-lift and walk on the main road towards the hotel. After 2-300 meters you take a right and walk up the road to "Fiskviksetra" which you follow 1.7 km all the way to the cabin which lies around 810 m.a.s.l.
Just ahead the cabin there is a path to the right you must follow in about 450 meters, some parts of this path are in a wet terrain before the path divides. To the right the path leads up around "Savalen Kletten", but we take a left here and walk around the hill towards "Øykjeklett tjønna". After about 300 meters on this path we cross a little stream and you get on your south "Øykjeklett tjønna" about 2-300 meters away and you can see "Tronfjell" in the background.
We continue this path beside the water on the right side. After about 600 meters the path divides. To the left the path leads to "Midttjønna" and to the right it leads further around "Øykjeklett tjønna" and back to Savalen. We take a right here and follow beside the water for about 400 meter and you will see a sign where it says "Øykjeklett tjønna" which is placed in the south end of the water. On the way we pass a bench which stands down by the water where it is lovely to take a little break.
From the sign we continue a path down to "Letengsetra" which you arrive at after about 900 meters. Big parts down this path you can see the Savalen lake in south. Here you get a bigger path and take right and enter the port to "Letengsetra". This path you follow all the way through the horse center and back to start. 
Distance M: 6 km | Low. height 735 m.a.s.l. | Max. height 903 m.a.s.l. | Increase 183 meters | Fall 185 meters
GPS-fil here