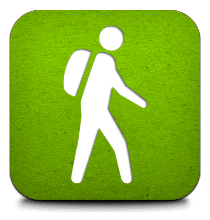 Nabben-runden

Start by the tipi outside the hotel.
Pass Santa's house and after about 150 meters turn right into "Savalen-rundt" road. After about 300m on this road, by the spa facility, turn left onto a path along the Savalen lake. This path you follow about 400 meters before entering the road into the cottage-field and following it up the hill to the ski resort. At the top of the hill turn right on the road down towards "Nabben". Follow the road by the seaports and after 2.4 km you are completely out on "Nabben".
Nabben is a great place to relax down by Lake Savalen, with a picnic area down by the water. Further from Nabben, about 200 meters backwards and to the right onto a trail for about 400 meters up to "Sjøliveien". After 1.4 km on "Sjøliveien", turn left onto the asphalt-road and follow this to the right around "Kviknedølstjønna" in 2.6 km and back to the tipi outside the hotel.

Distance: 7.1 km | Low. height 712 m.a.s.l. | Max. height 766 m.a.s.l. | Increase 100 meters | Fall 100 meters
GPS-fil here