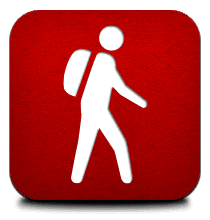 Rødalshøa
Start at the parking lot by the ski-lift and follow "Savalen rundt" road for about 3 km before you take the road to "Mogardsdalen" and then a path to the right towards "Sparsjøvollen". If you don't want to walk on a dirt road but rather straight on a path you can use a car for about 3km until "Savalen rundt" road- parking lot which is right besides the path to "Mogardsdalen".
After about 1.2 km on the path to "Sparsjøvollen" there is a marked path to the left. The path passes "Glefset" before you arrive at the road up to "Fjelltjønna". Further up tilted through the birch woods there is a solid path which you easily can follow all the way up to the bare mountain. The path leads you up to "Flåfattjønna" which is 8,4 km from the start by the parking lot by ski-lift and here it is an excellent resting spot by the water.
From here you can choose between 2 routes up to the top which both is marked. The shortest goes by "Måsåbua" and follows the most solid path in about 1-1.5 km. The last km there are no solid and whole path, but different small paths up to the top with a height difference straight under 200 meters.
When you are safely on the top you find a big cairn and a view you never seen anything alike around Savalen. 21.2 km round trip. 
GPS-file here